We are big fans of group therapy for adults at Wollongong Speech Pathology. There is  good evidence that talking together with peers leads to good communication outcomes. And people LIKE coming to groups to practice their communication goals.
It makes sense really. When attending a group, you get focused practice on a communication skill as well as the opportunity to observe how others are overcoming their communication issues, and you might learn something new, feel more connected, and even enjoy a great coffee while you are there. I forgot to mention that we are also big fans of coffee around here!
Now back to the published evidence on the benefits of group therapy for adults.
Clinical question:
For an adult with a communication impairment, is group therapy as effective as one-to-one therapy at improving communication outcomes?
For people with APHASIA (after stroke or brain injury), there is evidence that group therapy can improve specific linguistic processes, as well as benefiting social networks and community access. The Australian Aphasia Rehabilitation Pathway will tell you more about this (link here).
For people with TRAUMATIC BRAIN INJURY, group therapy is highly recommended because people will speak differently to their peers than they will to a therapist. A Sydney-based study revealed that group therapy for an individual after TBI AND a significant other resulted in positive outcomes. This study is known as TBI Express (ref: Togher et al, 2016, Neurorehabilitation). You can link to info about TBI Express here.
For people with AUTISM SPECTRUM DISORDER, several systematic reviews have been published over the past decade, outlining the benefits of social skills training (including social communication skills).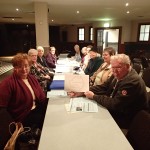 We should have group therapy for adults all the time?!
It makes it sound like group therapy is the magic trick! We think groups are great fun and effective. But they are not simple to run. We wait until we have just the right mix of participants, all available at the same time, all able to fund the treatment, with goals that are best met in a group context.
So, what does this mean for me?
If you like the idea of participating in a group, please just let us know. We are always gathering a waiting list of interested participants. Then we will reach out to you if we think we can get a group up and running.
References:
1. Togher et al (2016). NeuroRehabilitation, vol. 38(3): 243-255, "The effectiveness of social communication partner training for adults with severe chronic TBI and their families using a measure of perceived communication ability".
2. Bogart et al (2011). Brain Injury, vol. 26(3): 221-33. "Casual conversations between individuals with traumatic brain injury and their friends".