For some individuals, verbal communication is not feasible or effective. Does this mean that the individual is unable to communicate? Of course not! It may mean that the person uses something other that speech to get their message across. Cue Augmentative and Alternative Communication (AAC). In this article by our speech pathologist Jordan Duncan, we explain all about AAC, what it is, and how you can be an effective communication partner with an AAC user.
AAC can take many forms. For this reason, it can be helpful to group AAC into two categories: high-tech and low-tech. Flip the boxes for examples of high- and low-tech AAC.
High-tech AAC
Communication with the support of technology
Examples of high tech AAC
Speech generating device, e.g., iPad, eye gaze system, Neuronode, Lightwriter.
Single message device, e.g., Big Mack, Quick Talker.
Low-tech AAC
Methods of communication that are not battery powered
Examples of low-tech AAC
1. Use of the body, e.g., Key Word Sign, facial expression.
2. Picture-based communication book, e.g., PODD.
3. Pen and paper.
AAC can be used by many different people, including people who have:
developmental disabilities, such as Cerebral Palsy, Autism Spectrum Disorder
neurodegenerative disease, such as Motor Neuron Disease, Multiple Sclerosis
neurological injury, such as stroke or brain injury
structural changes, such as head and neck cancer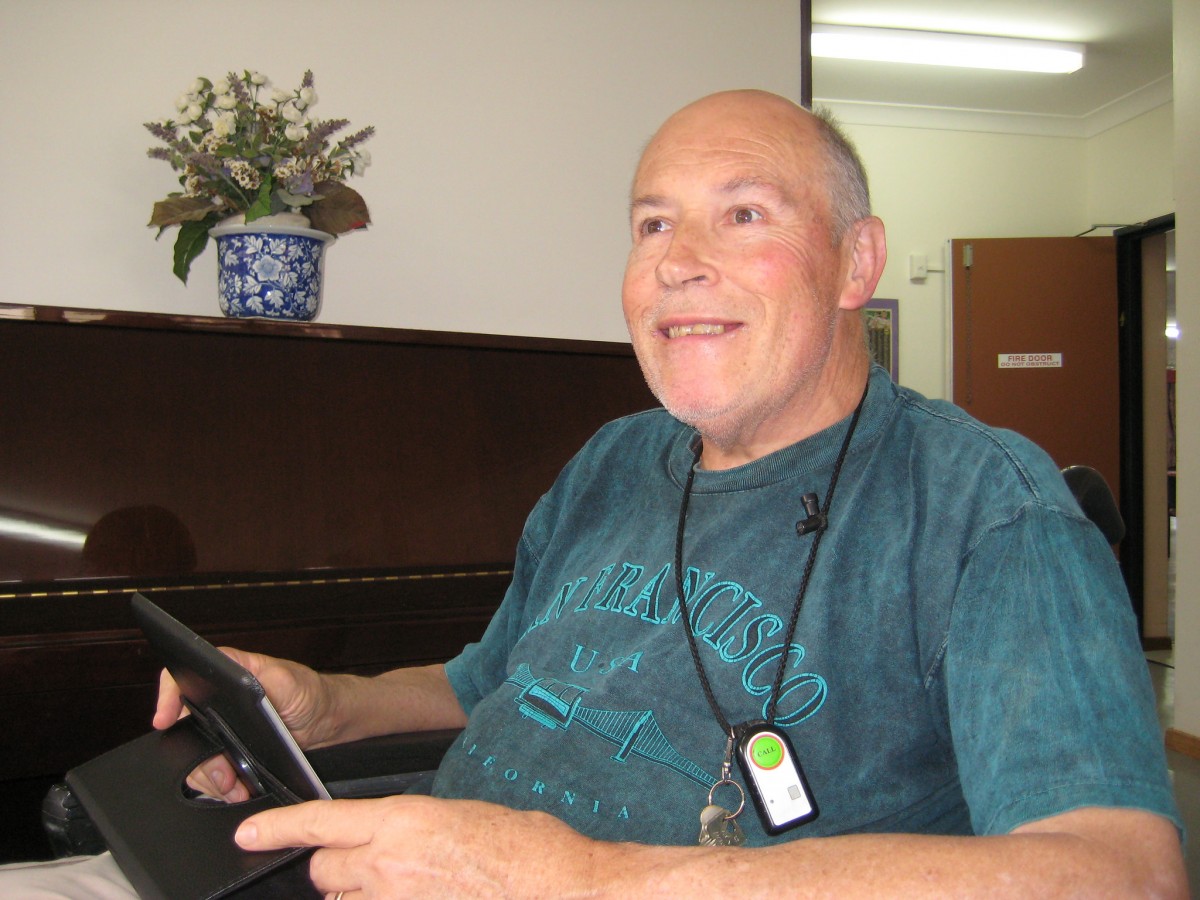 How do we choose the right AAC system?
A speech pathologist will complete a thorough assessment and trial various forms of AAC with you to find out what is most suitable. The speech pathologist will be assessing the following:
| | |
| --- | --- |
| Access | How will the user navigate around their system? Will they use their finger to touch? With they use eye gaze? With they use head or muscle movements to activate a switch? |
| Vocabulary | What kinds of words or pictures will be on the system? What will the user need to communicate? |
| Layout | How will the vocabulary be organised? How can we make this familiar and efficient for the user? |
| Communication partners | Who are the people involved in the person's life? Family, friends, support workers, health professionals, community. How can these people support the AAC user to communicate? |
| Motivation | How interested is the user in using the system? |
How can I be a good communication partner to an AAC user?
The 'communication partner' is so important in any successful interaction. There are some things you can keep in mind, to be a good communication partner with an AAC user.
Be patient
Allow additional time for the person to communicate their message
Do not talk on behalf of (or over) the person, unless they want you to
Ensure the AAC system is always available
Presume competence, do not doubt nor put limitations on the person
Get familiar with the AAC system
Here are these six tips in a handy infographic, which you can save for future reference.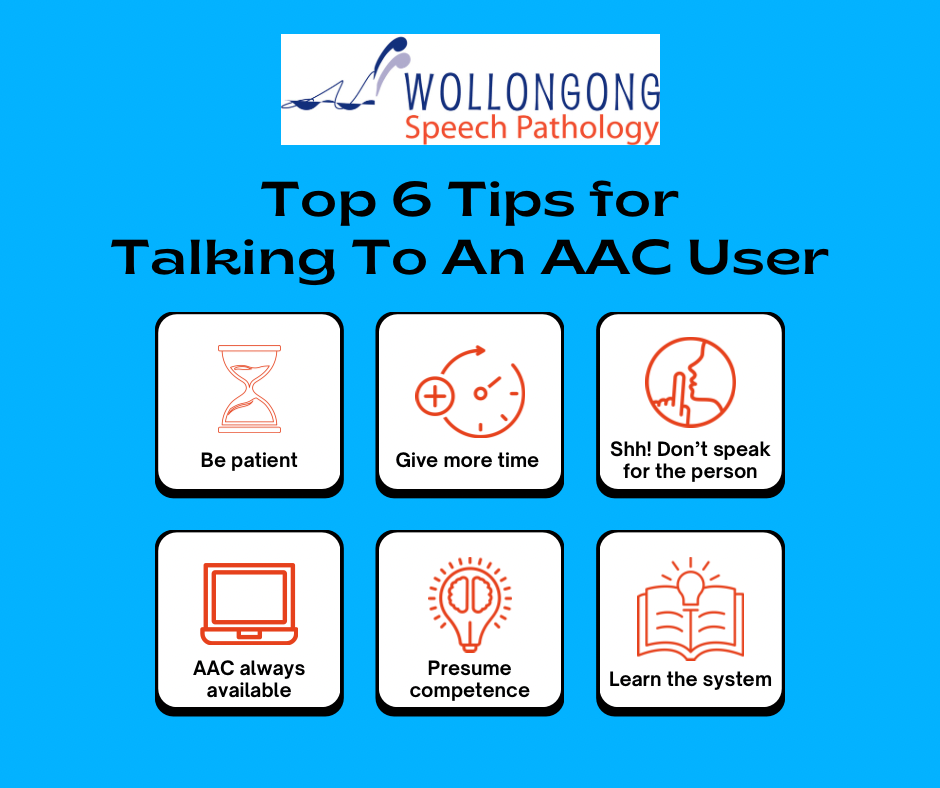 AAC modelling means that you point to words on the AAC tool as you speak. It may also be called Aided Language Stimulation or Aided Language Modelling. When learning a new communication system, everyone should be modelling, as often as possible! The main benefits are:
• You will become more familiar with the system
• You will help the AAC user to learn a new system
• You and the AAC user will be 'speaking the same language'
Modelling can improve the AAC user's communication. It can increase the number and range of words that are produced. It can result in more complex sentences, which makes communication richer and more efficient. Modelling can be done on any system, be it a low-tech board, a touch screen device, or eye gaze.
Before modelling, make sure the AAC user is okay with you touching their system. You will speak AND touch the system. You should speak in full sentences, but you might only touch key words. You should model in all sorts of interactions, from greetings, to requests, to small talk. It's okay to make mistakes while everyone is learning a new system. It can help if you 'think out loud' (e.g., "oh, where is happy… it's a feeling… I'll try the feelings page").
Navigating AAC can be challenging. That's why it needs to be a team effort with the AAC user, family, friends, support workers, speech pathologist, occupational therapist, and others in the community, all working together to help make communication possible.
Where can I find out more about AAC?
To read more, take a look at these links: